Iphone a1662 какие сети ловит в рф. Before hitting the store, you should be aware that the iPhone SE comes in several model numbers (A1662, A1723, A1724). Let's check out the differences.
Differences between iPhone SE Models (A1662, A1723, A1724)
The Apple iPhone SE has been officially available now. It might have the same design as the iPhone 5S, however, there are some significant upgrades inside. We have a more powerful CPU, GPU, more RAM, longer battery life and 12MP iSight camera. The iPhone SE is an attractive choice for big-phone haters because they will be able to use the phone comfortably with one hand now.
The phone was originally launched in March 2016 with 16 GB and 64 GB of storage configurations. Then, the storage was upgraded to 32GB and 128GB one year later.
Before hitting an Apple Store, you should be aware that the iPhone SE comes in several model numbers and they support different cellular and wireless networks. Therefore, there is a chance that you won't be able to use the phone in some other countries. The model number can be found on the box or on the back of your iPhone. In the case of iPhone SE, it can be A1662, A1723 or A1724. Let's check out the differences.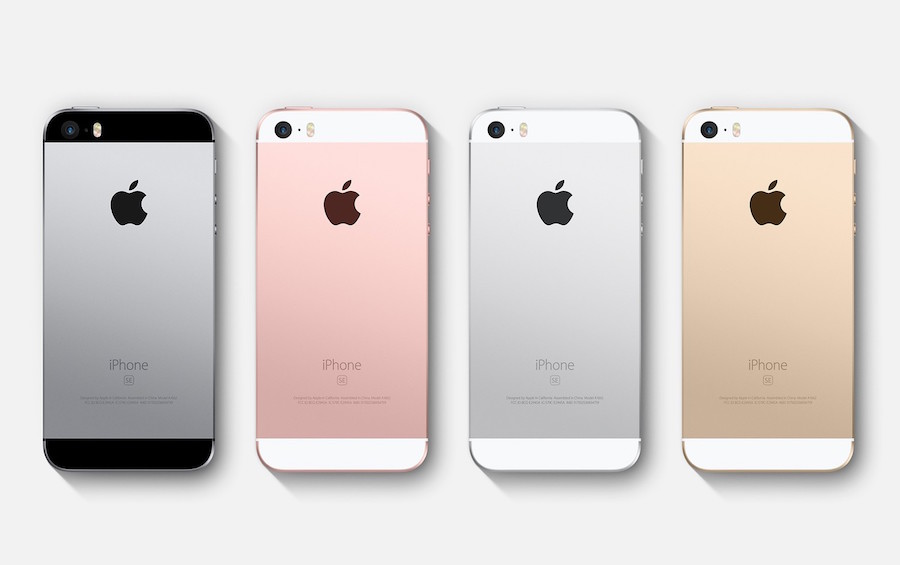 iPhone SE A1662
This is the model released in the United States. You can easily buy it at Apple Store or from carriers like AT&T, T-Mobile or Verizon. Notice that the Sprint iPhone has a different model number that we will mention later.
The iPhone A1662 supports LTE (Bands 1, 2, 3, 4, 5, 8, 12, 13, 17, 18, 19, 20, 25, 26, 29); CDMA EV‑DO Rev. A (800, 1700/2100, 1900, 2100 MHz); GSM/EDGE (850, 900, 1800, 1900 MHz) and UMTS/HSPA+/DC‑HSDPA (850, 900, 1700/2100, 1900, 2100 MHz).
Following are some part numbers of the model:
SIM-Free Unlocked Phone
16GB Silver Unlocked MLLX2LL/A
64GB Silver Unlocked MLME2LL/A
16GB Gold Unlocked MLY12LL/A
64GB Gold Unlocked MLY32LL/A
16GB Space Gray Unlocked MLLW2LL/A
64GB Space Gray Unlocked MLMD2LL/A
16GB Rose Gold Unlocked MLY22LL/A
64GB Rose Gold Unlocked MLY42LL/A
32GB Silver Unlocked MP7U2LL/A
128GB Silver Unlocked MP7Y2LL/A
32GB Gold Unlocked MP7V2LL/A
128GB Gold Unlocked MP802LL/A
32GB Space Gray Unlocked MP7T2LL/A
128GB Space Gray Unlocked MP7X2LL/A
32GB Rose Gold Unlocked MP7W2LL/A
128GB Rose Gold Unlocked MP812LL/A
AT&T
16GB Silver AT&T MLLM2LL/A
64GB Silver AT&T MLM52LL/A
16GB Gold AT&T MLXH2LL/A
64GB Gold AT&T MLXK2LL/A
16GB Space Gray AT&T MLLL2LL/A
64GB Space Gray AT&T MLM42LL/A
16GB Rose Gold AT&T MLXJ2LL/A
64GB Rose Gold AT&T MLXL2LL/A
32GB Silver AT&T MP8C2LL/A
128GB Silver AT&T MP942LL/A
32GB Gold AT&T MP8D2LL/A
128GB Gold AT&T MP952LL/A
32GB Space Gray AT&T MP8A2LL/A
128GB Space Gray AT&T MP932LL/A
32GB Rose Gold AT&T MP8E2LL/A
128GB Rose Gold AT&T MP962LL/A
Verizon Wireless
16GB Silver Verizon MLM02LL/A
64GB Silver Verizon MLMG2LL/A
16GB Gold Verizon MLY52LL/A
64GB Gold Verizon MLY72LL/A
16GB Space Gray Verizon MLLY2LL/A
64GB Space Gray Verizon MLMF2LL/A
16GB Rose Gold Verizon MLY62LL/A
64GB Rose Gold Verizon MLY82LL/A
32GB Silver Verizon MP8L2LL/A
128GB Silver Verizon MP9D2LL/A
32GB Gold Verizon MP8M2LL/A
128GB Gold Verizon MP9E2LL/A
32GB Space Gray Verizon MP8K2LL/A
128GB Space Gray Verizon MP9C2LL/A
32GB Rose Gold Verizon MP8N2LL/A
128GB Rose Gold Verizon MP9F2LL/A
T-Mobile
16GB Silver T-Mobile MLLV2LL/A
64GB Silver T-Mobile MLMC2LL/A
16GB Gold T-Mobile MLXW2LL/A
64GB Gold T-Mobile MLXY2LL/A
16GB Space T-Mobile MLLU2LL/A
64GB Space T-Mobile MLMA2LL/A
16GB Rose Gold T-Mobile MLXX2LL/A
64GB Rose Gold T-Mobile MLY02LL/A
32GB Silver T-Mobile MP8G2LL/A
128GB Silver T-Mobile MP982LL/A
32GB Gold T-Mobile MP8H2LL/A
128GB Gold T-Mobile MP992LL/A
32GB Space Gray T-Mobile MP8F2LL/A
128GB Space Gray T-Mobile MP972LL/A
32GB Rose Gold T-Mobile MP8J2LL/A
128GB Rose Gold T-Mobile MP9A2LL/A
iPhone SE A1723
This is the global version being sold at Sprint and most carriers in the UK, Canda, Europe, Australia and Asia. It is compatible with LTE (Bands 1, 2, 3, 4, 5, 7, 8, 12, 17, 18, 19, 20, 25, 26, 28); TD‑LTE (Bands 38, 39, 40, 41); TD‑SCDMA 1900 (F), 2000 (A); CDMA EV‑DO Rev. A (800, 1700/2100, 1900, 2100 MHz); GSM/EDGE (850, 900, 1800, 1900 MHz) and UMTS/HSPA+/DC‑HSDPA (850, 900, 1700/2100, 1900, 2100 MHz).
Following are some part numbers:
Sprint
16GB Silver Sprint MLM32LL/A
64GB Silver Sprint MLMJ2LL/A
16GB Gold Sprint MLYC2LL/A
64GB Gold Sprint MLM32LL/A
16GB Space Gray Sprint MLM22LL/A
64GB Space Gray Sprint MLMH2LL/A
16GB Rose Gold Sprint MLYA2LL/A
64GB Rose Gold Sprint MLYD2LL/A
32GB Silver Sprint MP8Q2LL/A
128GB Silver Sprint MP9H2LL/A
32GB Gold Sprint MP8R2LL/A
128GB Gold Sprint MP9J2LL/A
32GB Space Gray Sprint MP8P2LL/A
128GB Space Gray Sprint MP9G2LL/A
32GB Rose Gold Sprint MP8T2LL/A
128GB Rose Gold Sprint MP9K2LL/A
United Kingdom
16GB Silver MLLP2B/A
64GB Silver MLM72B/A
16GB Gold MLXM2B/A
64GB Gold MLXP2B/A
16GB Space Gray MLLN2B/A
64GB Space Gray MLM62B/A
16GB Rose Gold MLXN2B/A
64GB Rose Gold MLXQ2B/A
32GB Silver MP832B/A
128GB Silver MP872B/A
32GB Gold MP842B/A
128GB Gold MP882B/A
32GB Space Gray MP822B/A
128GB Space Gray MP862B/A
32GB Rose Gold MP852B/A
128GB Rose Gold MP892B/A
Canada
16GB Silver MLLP2VC/A
64GB Silver MLM72VC/A
16GB Gold MLXM2VC/A
64GB Gold MLXP2VC/A
16GB Space Gray MLLN2VC/A
64GB Space Gray MLM62VC/A
16GB Rose Gold MLXN2VC/A
64GB Rose Gold MLXQ2VC/A
iPhone SE A1724
The is the model sold exclusively in Mainland China. The network bands are quite similar to the A1723, the only difference is that it doesn't support CDMA EV‑DO Rev. A (800, 1700/2100, 1900, 2100 MHz). Specifically, it is compatible with LTE (Bands 1, 2, 3, 4, 5, 7, 8, 12, 17, 18, 19, 20, 25, 26, 28); TD‑LTE (Bands 38, 39, 40, 41); CDMA1700/2100 (BC15), TD‑SCDMA 1900 (F), 2000 (A); GSM/EDGE (850, 900, 1800, 1900 MHz) and UMTS/HSPA+/DC‑HSDPA (850, 900, 1700/2100, 1900, 2100 MHz).
It will work with China Mobile's 4G TD-LTE, 3G, or TD-SCDMA networks. The unlocked model from China Mobile doesn't support China Telecom's CDMA-based network.
China
16GB Silver MLLP2CH/A
64GB Silver MLM72CH/A
16GB Gold MLXM2CH/A
64GB Gold MLXP2CH/A
16GB Space Gray MLLN2CH/A
64GB Space Gray MLM62CH/A
16GB Rose Gold MLXN2CH/A
64GB Rose Gold MLXQ2CH/A
32GB Silver MP832CH/A
128GB Silver MP872CH/A
32GB Gold MP842CH/A
128GB Gold MP882CH/A
32GB Space Gray MP822CH/A
128GB Space Gray MP862CH/A
32GB Rose Gold MP852CH/A
128GB Rose Gold MP892CH/A
Those are the differences among iPhone SE model numbers, leave a comment below if you have any question.
Disclosure: As an Amazon Associate, I earn from qualifying purchases. The commission help keep the rest of my content free, so thank you!
Reader Interactions
Comments
Is the MLLV2LL/A model A1662 considered a sim free unlocked version that will work on any GSM or CDMA network?
MLLV2LL/A is NOT unlocked; as noted above, this is a T-Mobile assigned device, but it should still work for most US networks if is does not have a subsidy lock.
I'm Indian user then which model is preferable for me
Go ahead with model number A1723 (Sprint)
I'am suggesting this to you because this supports more LTE bands which would be highly compatiable in India (Including top networks like AirTel, Vodafone, Idea, Reliance Jio, Etc)
This model is currently available in India
Want to trade in and wonder if it was worth anything
So will the A1723 (global version) bought, say in Asia (other than China), work in the USA as well?
Yes, this also will work with most US networks, so long as it does not have a subsidy lock.
How and where can i buy SE sim free model 1723?
On US online store
Unfortunately Apple US website has some restrictions in giving choice to users in selecting a model number.
I tried contacting Apple support several times and they could not help me out 🙁
But, you have an option of buying the A1723 model.
All you have to do is order for an unlocked version of phone through Apple US website and choose picking it up from Apple store.
Ask your friends who is in US to pick the phone from Apple store on behalf of you and while picking up the phone, ask them to ask for model #A1723 instead of A1662.
You can also buy a Apple gift card and send it to your friend via email and ask them to buy the phone bearing model #A1723 directly from the Apple store.
Let me know the color and capacity you are looking for so I can provide you the exact part number of the model #A1723
I asked my cousins in Seattle, Washington to buy me an iPhone SE Sim-free. When i asked them to check the model it is A1662. Can i use it here in the Philippines?
Please respond to this message, i have the same question. Thanks
Yes, A1662 works globally but not on all network bands.
It is safe to buy A1723 becuase it supports more LTE bands.
As you all aware, more LTE bands means faster Internet Access :))
Absolutely you can use the A1662 in Philippines.
A1662 support is for usa only. pls check the website of apple.com/iphone/LTE
I have an A1662 MLMD2LL/A. 2 questions:
:: will it work well in the UK and EU?
:: is there a reason the model number in my phone settings says NLMD2LL/A?
I also have the same issue.my iphone model start with NLM. What that.
Yes it will if its unlocked
Dont worry about the part number as long as you got correct model no
For the model iPhone SE A1724 exclusively sold in China it says "the only difference is that it doesn't support CDMA EV‑DO Rev. A (800, 1700/2100, 1900, 2100 MHz)"
What does that mean? If I buy the phone in China model iPhone SE A1724, what will I lose? not having CDMA EV-DO…. If I leave China and move to Europe, will I have connection problems?
Should I wait and buy it in Hong-kong instead ?
better wait to buy in hkg. europe are using GSM, as HKG. while china is CDMA
Why does my apple se model a1723
Doesn't have an Applepay?
Viraj Ashtekar says
Will the Model A1662 work in INDIA ??
Yes it will… But do not expect your phone to support all LTE bands in India
I will be in New York next month. I am going to buy model A1723 (sim free) at AppleStore.
I know that model for Sprint (CDMA). What limitations does A1723 have for using in Europe by GSM, LTE or CDMA (lock etc).
If It has limitations how can I solve this problem in official way.
Thank you.
1) Is there any difference between the "Sprint" MLM32LL/A and "Canada" MLLP2VC/A. These are both iPhone SE A1723, 16GB, in silver.
2) Is there any confirmed way of buying a A1723 model in the US, that isn't network locked? I was in an Apple Store in the US recently, and they were willing to sell me the "Sprint" model, but I now realise that it might have been locked to Sprint. I need the phone to work in Australia, on Telstra.
Manish Mediratta says
Dear all, Hello! MLMF2LL/A is Verizon one.. Will it work for else GSM networks like AT&T or overseas for any GSM 4G players?
I have a similar question. I have an MLMF2LL/A for Verizon but am switching to T-Mobile. Will it work as well as the T-Mobile model or will there be some service drops?
Does the A1662 model work with China's 4G network?
Can I unlock a serial number MLLL2LL/A to use it out of the United States?
Thanks!
I have a model MLMF2LL/A which stated above is a Verizon phone. This phone had no sim card.
Will it work with AT&T or only Verizon
K Phillips says
I have an AT&T Model 1662. It is unlocked. will it operate with full functionality on any network? I am planning on going to Japan. I would like to get the full use out of it while I am there.
Mine is actually a model NLY32LL/A. What does that indicate?
NLY32LL/A. It's a replacement unit given under warranty. You should only have that model number if you got it through apple care or second hand. It can be used like any other iPhone SE
I'm close to purchase a 64 GB version of iPhone SE in Romania.
the shop has 4 versions listed with these P/Ns: MLXP2RR/A, MLXQ2RR/A, MLM72RR/A & MLM62RR/A.
are those still some breed of A1723 or should I get worried afterwards?
I HAVE A iPhone SE A1723 MLM32LL/A. Sprint is my carrier but I am not under contract. Can you tell me what carriers this phone will work with? I am looking for a no contract/prepaid plan. I have done some extensive research and I still am gathering conflicting information as to what carriers this phone will work on. Can you please help me
Can the A1724 be used in West Africa Ghana?
So will 64GB Silver SIM-free MLME2LL/A work on Sprint? It is factory unlocked.
Can I use the A1662 in Spain? It's lacking the LTE 7, I don't know how much that would affect me.
i want know can i buy the models of 1662 in ashin county?
can i use 1662 model in asiyan county without any problems
hola, necesito usarlo tanto en colombia como en chile, entonces cual de los dos modelos debo comprar 1662 0 1723?? por favorcito, respondame urgente que lo estoy comprando por internet
Angel Cruz says
I just bought an iPhone se 32 gb for Sprint model A1723 but this one part no. MP8R2LL/A, this one is not on the list, so in what category leave this model?
Sulaimon Adeyemo says
I just bought a previously owned Apple iPhone SE a1662 16GB GSM Unlocked from US. will it work in Nigeria GSM networks?
Kendall Stoltzfus says
Can I use the A1723 model with U.S. Cellular
Ainz Ooal Gown says
i found a 1662 with a sprint sim….
I bought a Iphone SE (A1723), model MLXQ2KH/A. It is unlocked and I was told would work with Sprint. But they say they cant activate that phone. Is this model not compatable here in the US or something?
will a candian model work in the US? model MLXP2VC/A
mauricio pineda says
el modelo A1662 de 128 GB funciona en Colombia habiendolo comprado en ali express? o cual seria el posible problema?
Will iPhone SE (A1724) work on GSM systems in the USA.
Mataa Mafelomale says
Did you deliberately leave out the 128gb?
Hi,
There was no 32GB and 128GB configuration at launch. The 128GB was released 1 year later and I've added new models to the list.
What iPhone model will be compatible for using in Peru. If I was to use SIM card.
And what other iPhones as well.
is a A1723 with "VC/A" at the back fully unlocked and GSM + CDMA compatible?
THANKS!
Kevin Singh says
I've got the a1662 . Will this work in the Caribbean?
Andrew Hunter says
will a MPN:MLYA2LLA (Iphone SE A1723) work in the philippines and United States?
What about the iPhone SE A1723 MP872J/A?
If you take a barely-compatible version of this phone to a major city centre in a foreign country, your odds of getting good signal strength are still on your side. If you are heading to a small town or village, take the effort to get the right version!
My wife uses a A1723 iPhone SE (unlocked and handed down from a relative's Rogers LTE / UMTS / GSM plan after the relative got a new iPhone XR), but it still works on my wife's Telus LTE / HSPA+ network (mostly bands 2 & 5 instead of 2 & 4). Home signal strength locally is Fair, but in Las Vegas it gets 4 bars wall-to-wall, roaming on AT&T.
Meanwhile my own handed down phone from Venezuela (bought on Craigslist) also gets "fair" signal on the same Telus network at home, and 4 bars wall-to-wall signal in Las Vegas, but mine roams onto T-Mobile there instead.
When we took the same phones to a Telus covered border town (Niagara Falls), both barely-compatible phones often tried to roam onto USA networks (even walking past a US Customs pre-clearance room at the Toronto Airport tried to roam), and had to be set to "Home Only" to avoid roaming charges even several miles from the border there.
Как отличить "серый" iPhone от "белого"?
Всем известно, что существуют два вида продукции и называем мы их — «серый» и «белый» товар. Особенно это касается самых известных и популярных брендов, таких как Apple. В этой статье мы детально разберемся в этом вопросе. Вы узнаете, как не стать жертвой мошенников и недобросовестных продавцов, а также, как отличить «серый» iPhone от «белого».
Для начала выясним что есть что.
Что такое «Серый» iPhone.
Простыми словами, это iPhone, которые нелегально попадают в Россию. Такие смартфоны не предназначены для нашей страны.
Что такое «Белый» iPhone.
Это легально ввезенные в Россию смартфоны Apple, прошедшие таможенный контроль и имеющие сертификацию Росстандарт.
Далее, разобравшись в понятиях, мы расскажем вам, как такие смартфоны можно самостоятельно определить.
Как определить «Белый» и «Серый» iPhone.
Необычно низкая цена. Магазин MacTime регулярно проводит интересные акции и конкурсы, которые очень выгодные и по ним есть возможность приобрести Айфон по более низкой цене. Но, даже тогда, «Серый» смартфон стоит дешевле.
Наличие следующих знаков на коробке:
РСТ – Росстандарт – говорит о том, что телефон «Белый»;
ЕАС – Евразийский союз – так же говорит о том, что Айфон «Белый».
В меню операционной системы iOS есть Русский язык.
Документация в коробке на Русском языке. Если это не так, или текст на документации напечатан не качественно, то значит в ваших руках либо «Серый», либо поддельный Айфон.
Гарантия на iPhone не меньше 12 месяцев. На сайте Apple, по серийному номеру можно это определить. Сам серийный номер вы найдете в меню Настройки > Основные > Об этом устройстве.
Сервисное обслуживание
Проверка права на обслуживание и поддержку
Проверьте своё устройство на гарантию от Apple. Для этого перейдите по ссылке. Далее введите серийный номер в соответствующее поле, затем введите капчу и нажмите «Продолжить».
В артикуле/модели iPhone должны содержатся следующие две последние латинский буквы перед слэш: RR, RP, RS, RU. Их наличие говорит о том, что смартфон производился для России. Вот пример артикула для Apple iPhone X 256GB (серый космос) для России – MQAF2RU/A.
Ниже представлен список обозначений для стран. Воспользовавшись им, вы сможете определить, для какой страны предназначен ваш Айфон:
A – Канада
AB – Саудовская Аравия, ОАЭ, Катар, Иордания, Египет
AE – Саудовская Аравия, ОАЭ, Катар,
B – Великобритания и Ирландия
BG – Болгария
BR – Бразилия
BT – Великобритания
BZ – Бразилия
С – Канада
CH – КНР
CI – Парагвай
CM – Венгрия, Хорватия
CR – Хорватия
CS – Словакия, Чехия
CN – Словакия
СZ – Чехия
D, DM – Германия
DN – Австрия, Германия, Нидерланды
E – Мексика
EE – Эстония
EL – Эстония, Латвия
ER – Ирландия
ET – Эстония
F – Франция
FB – Франция, Люксембург
FD – Австрия, Лихтенштейн, Швейцария
FN – Индонезия
FS – Финляндия
GB – Греция
GH – Венгрия
GP – Португалия
GR – Греция
HB – Израиль
HC – Венгрия, Болгария
HN – Индия
IP – Италия
J, JP – Япония
IP – Португалия, Италия
ID – Индонезия
K – Швеция
KH – Южная Корея, КНР
KN – Дания и Норвегия
KS – Финляндия и Швеция
LA – Гватемала, Гондурас, Колумбия, Коста-Рика, Перу, Сальвадор, Эквадор, Никарагуа, Барбадос, Доминиканская Республика, Панама, Пуэрто-Рико
LE – Аргентина
LL – США
LP – Польша
LТ – Литва
LV – Латвия
LZ – Парагвай, Чили и Уругвай
MG – Венгрия
MM – Черногория, Албания и Македония
MY – Малайзия
ND – Нидерланды
NF – Бельгия, Франция, Люксембург, Португалия
PA – Индонезия
PK – Польша, Финляндия
PL, PM – Польша
PO – Португалия
PP – Филиппины
PY – Испания
QN – Швеция, Дания, Исландия, Норвегия
QL – Испания, Италия, Португалия
RO – Румыния
RR – Россия, Молдова
RP, RS, RU – Россия
RM – Россия, Казахстан
RK – Казахстан
SE – Сербия
SL – Словакия
SO – ЮАР
SU – Украина
T – Италия
TA – Тайвань
TH – Тайланд
TU – Турция
TY – Италия
VN – Вьетнам
X – Австралия, Новая Зеландия
Y – Испания
ZA – Сингапур
ZD – Люксембург, Австрия, Бельгия, Монако, Германия, Франция, Нидерланды, Швейцария
ZG – Дания
ZO – Великобритания
ZP – Гонконг и Макао
ZQ – Ямайка
Как вы видите, смартфон Apple для России может одновременно предназначаться еще и для Казахстана с Молдовой.
Модель iPhone по связи, так же, должна говорить о своем Российском предназначении. Ее можно узнать на коробке или в меню телефона Настройки > Основные > Об этом устройстве и один раз нажмите на строку Модель. Вы должны будите увидеть пятизначный код, пример — A1901.